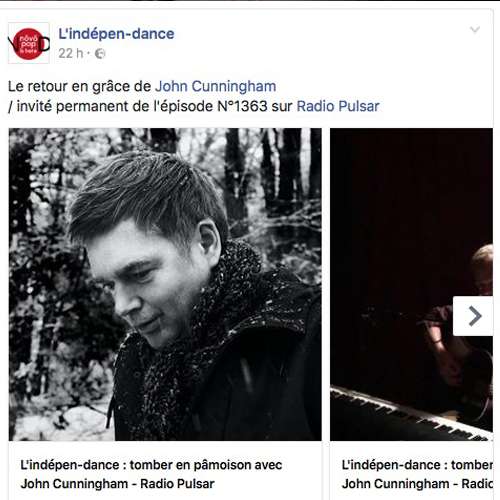 Yesterday night John Cunningham was one of the stars in L'indépen-dance on Radio Pulsar ! 
Bienvenue dans ce monde novopop où la Drôle De Musique va rythmer votre soirée,  où ce mercredi, nous allons orienter nos oreilles entre Liverpool & Poitiers puisque le dernier album de John Cunningham décroche l'appellation indispensable quelques semaines après sa sortie sur  MicroCultures / HotPuma.
« Fell » est l'album que l'on n'attendait plus, après avoir croisé, au cœur des 90's, ce songwriter discret, méticuleux et talentueux. Du talent, il en faut pour construire ces petites architectures de « chamber pop », au charme délicat. Tout en douceur, en légère apesanteur, avec cette voix caractéristique de jeune premier, John Cunningham expose son artisanat sur disques mais en aussi sur scène, et son passage poitevin a donné envie à Franck de tomber à nouveau en pâmoison devant tant de candeur et de splendeur.