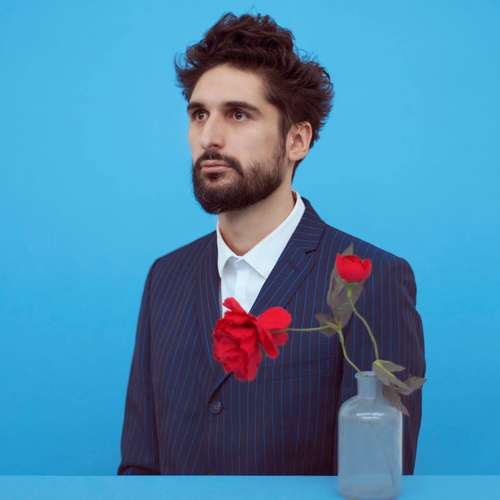 G R I M M E is the alter ego of Victor Roux, a songwriter, producer and sound and images D.I.Y. enthusiast who lives in a waking dream of sound and vision... Melodies and images blur together in an organic pop-folk in the fine tradition of Eels or Troy Von Balthazar. G R I M M E's music is vintage but still modern, both stripped down lo-fi and orchestrated with the whole adding up to an artist of his time who has forged a unique universe.
Victor is originally from Lyon and cut his teeth with several local groups (Azraël, XX Mariani, among others) before deciding to go solo. He transformed his two-room flat into a home studio and worked on new songs which he first released under his own name - Victor. Alongside his own work, he produces and composes songs and albums for other artists (Laurent Lamarca, Al-Hy, Eddy La Gooyatsh etc.).
He has a passion for cinema and painting, so images have always been very important in his artistic projects. He thus founded the AADN association with 3 friends in 2004 at the RVI artistic squat in old industrial buildings in Lyon. There he has been able to explore the immense potential of video and the digital arts... For 10 years, he has participated in the creation and installation of numerous interactive sound and vision installations which even led him to go to China!
It is therefore quite natural that this visual dimension has been included in the folk-poetic universe of G R I M M E.
Through the debut album, 'The World's All Wrong But It's All Right',
G R I M M E tackles the themes of birth and transition, in a world where the naive are kings... a hymn to melancholy and to the glory of the dreams.
The songs and videos of this record were thought about, written, produced, recorded, filmed, mixed and mastered in one room using various odds and ends and with the precious help of his well- intentioned friends.
G R I M M E's music of is the fruit of the integration of these different cultures. It mixes folk, pop and timeless electronic music in a mix of reverb guitars, old-school synthesizers, strings and real song-writing to create a unique sound.